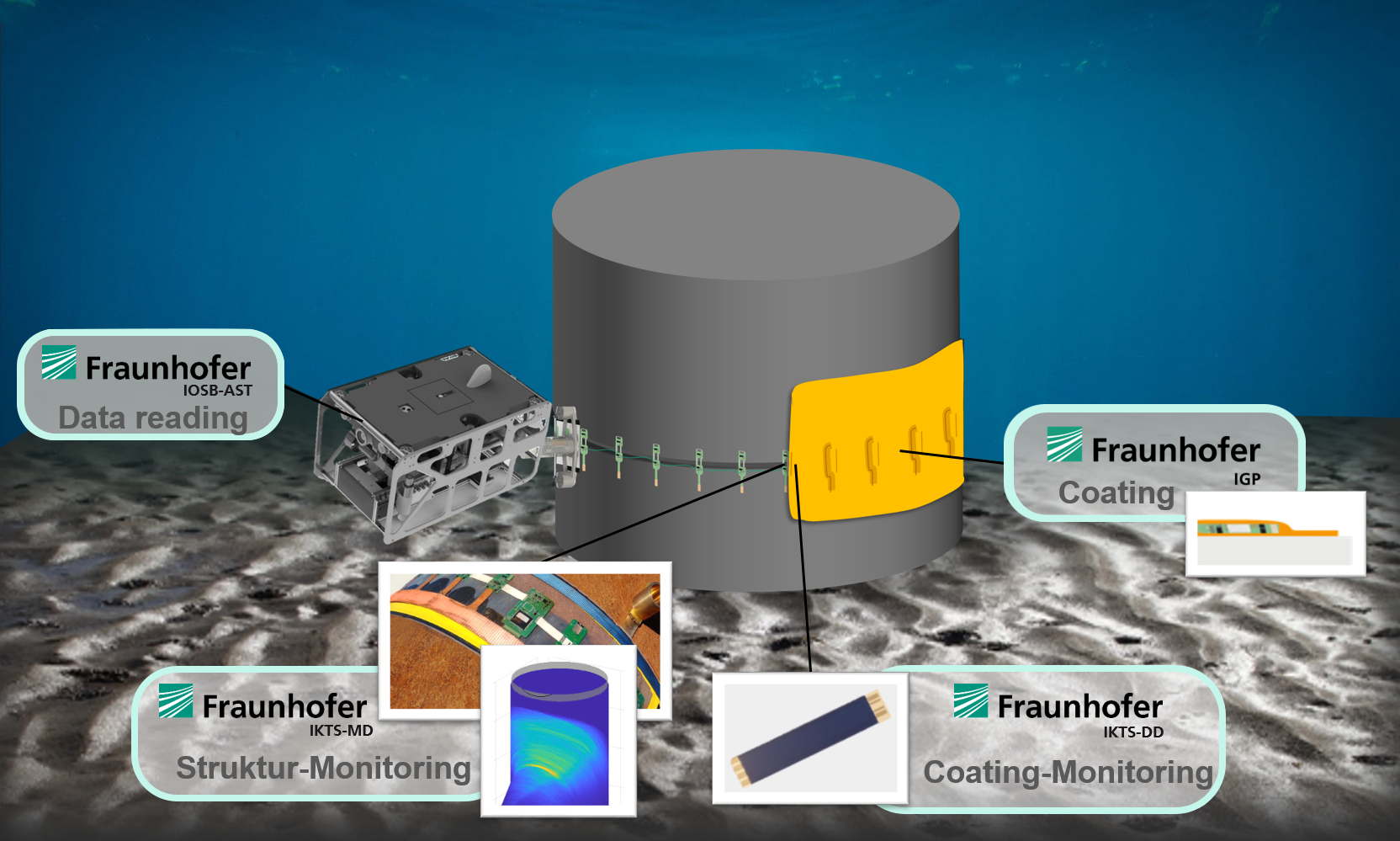 Motivation
For operators of maritime structures, such as offshore wind turbines, the economic viability of their installations is a top priority. However, the offshore site means that regular maintenance work is associated with immense costs and high safety risks due to difficult accessibility and harsh conditions.
Short description of the project
In the research group "Smart Ocean Technologies", scientists from different disciplines are therefore working on the development of a technology for Structural Health Monitoring (SHM) of maritime structures by means of a smart coating. The project focuses on the combination of SHM technology and corrosion protection.
Fraunhofer IKTS brings well-founded know-how in the field of sensor technology to the research project and develops technologies, among others based on ultrasound, for structural and corrosion protection monitoring. Especially the size of the sensor technology represents a decisive criterion for its successful integrability into a coating system. Consequently, in addition to achieving high-quality data generation for sensor technology embedded in a coating system, the focus here is also on developing sensors that are as small as possible.
Both an intact structure and effective corrosion protection are required for the safe and long-lasting operation of offshore installations. The existing high demands on the mechanical and corrosive resistance of anti-corrosion coatings in the offshore sector require precise knowledge of the behavior of sensors integrated in coatings under a wide range of environmental influences. Fraunhofer IGP covers the necessary competences in the field of corrosion protection by coating systems and is engaged in the qualification of an integration solution for sensor technology into smart coating within the scope of the project. In the next step, the development of an adapted manufacturing process is necessary in order to implement the high requirements for the corrosion protection effect in the context of the industrial production of smart coatings.
The research project is also supported by Fraunhofer IOSB, which is developing a readout technology for the generated data using an ROV.
In this way, smart coatings can make the monitoring of offshore structures more economical and safer in the future and exploit the digitalization potential of the maritime industry.